GenAI powered Digital Assistant and Knowledge Amplifier for B2B sellers
Get credible & fast answers to customer questions, business questions, and technical questions
An overwhelming 80% of sellers say, finding the best answers to their customer questions is painful & time-consuming.
Business Development Representative
Questions Answered in Real Time
Onboarding Time Reduction
Key Buyer-Seller Enablement Challenges
Accelerate customer decision making, improve sales execution, and increase the scale of expertise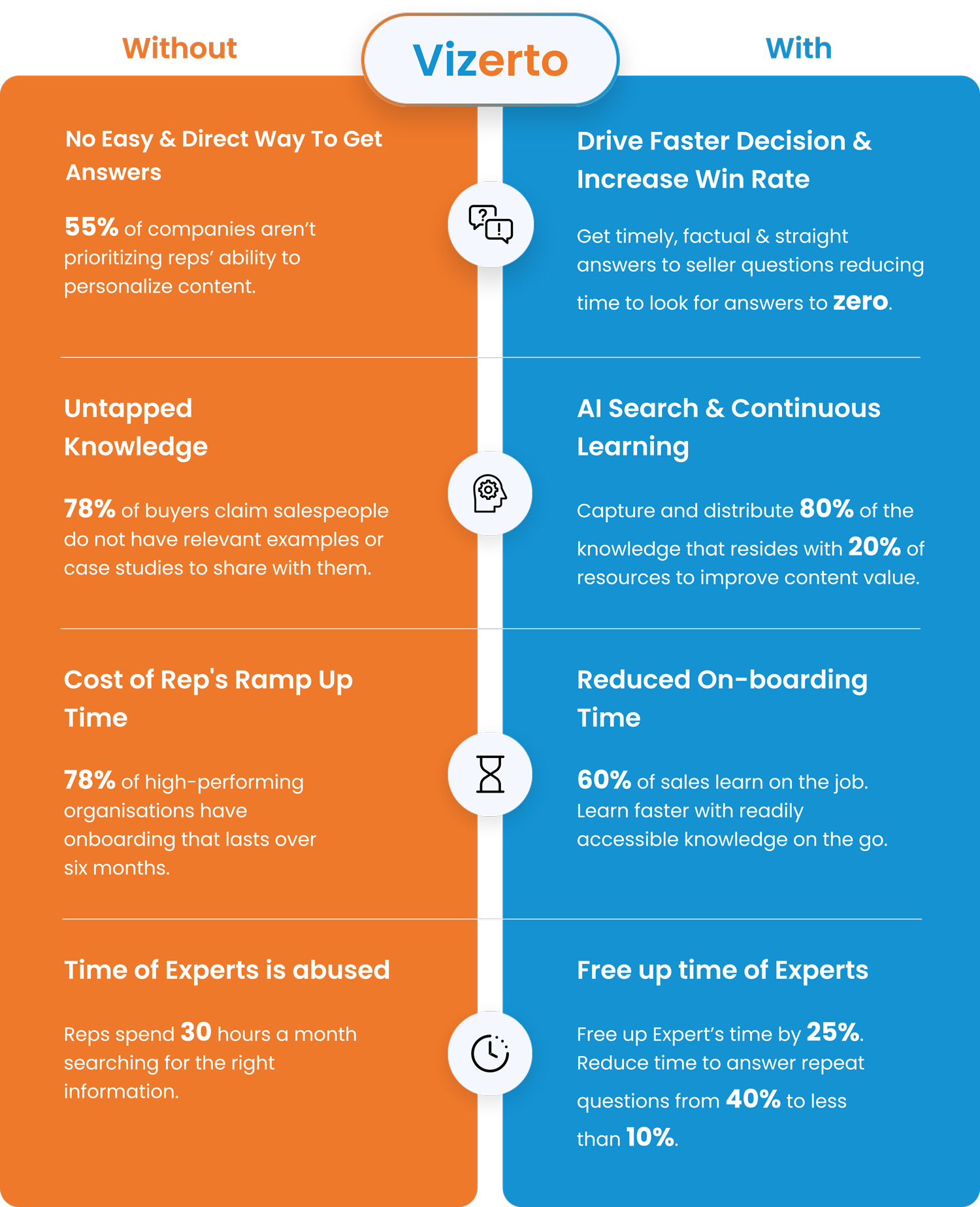 Engage through Web, Collaboration Platform, Email or Mobile
GenAI Enabled Answering, Summarization & Context Detection
Vizerto provides the best custom-generated response while also detecting user question context.
Plain and Simple Consumer like Experience
Ask questions, get instant suggestions or submit to experts, take advantage of Vizerto recommendations, and get notified of answers
1:1 Slack, WebEx, and MS Teams Engagement
Ask Vizerto as if you are engaging with an expert and get 1:1 answers. Use easy to understand interactive components to get the best answers.
Email Vizerto and get an email response
Sales team members sending emails to Technical Expert Email Alias, instead send to Vizerto and get instant answers.
Unique insights into the business
Vizerto usage provides insights into the true customer needs, operational and enablement issues, and partner pain points.
Check out how to build customer trust & win the deal
Get instant high quality answers
Stop waiting in line for Experts time
Avoid rescheduling customer meetings
Be well informed & win credibilily
Get your time back and close more for the quarter
"With Vizerto we are able to extend our sales and technical expertise globally, and equally to our partners" - SVP, Global Technical Sales, Fortune 50 Technology Company
"Vizerto makes us more responsive, internally and externally to meet sales and customer needs" – Director, Sales, Storage Provider
"New hires love Vizerto, they can learn from dynamic knowledge without having to sit through 30-40 hours of online training" - Sr. Manager, Product Mgmt, Virtualization Leader
Subscribe for thought leadership & product updates in the sales enablement space